PROTECTING THE RIGHTS OF DIVERS
Delise & Hall is a New Orleans, Louisiana, based law firm with offices in New Orleans and Covington and associate attorneys nationwide. Our firm concentrates in the representation of an international clientele of commercial divers, public safety divers, technical divers and recreational divers and their families in all areas of maritime and admiralty law. For over a quarter of a century Delise & Hall has represented American and international clients from the Gulf of Mexico to the Gulf of Cadiz, and from the British Isles to the Marshall Islands in maritime matters concerning the Jones Act, products liability, personal injury and wrongful death litigation as well as treasure/salvage law. Consultations are also available in matters concerning marine insurance and vessel documentation.
Delise & Hall accepts attorney referrals from around the globe as well as provides expert testimony in diving litigation. As experienced divers as well as instructors, the attorneys and staff of Delise & Hall can assist attorneys, investigators and risk managers in the post casualty investigation prior to the commencement of litigation or a claim.
In an effort to promote diver safety, Delise & Hall sponsors diver safety seminars for dive clubs, dive shops or other interested parties with the goal of avoiding diver injuries and fatalities and with the encouragement of diver safety on the job or within the public safety, recreational and technical diving communities.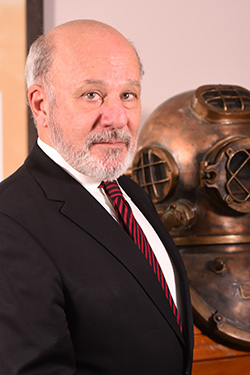 BOBBY J. DELISE, ATTORNEY
Mr. Delise is a native of New Orleans and founding partner of the firm. His primary area of expertise is the representation of an international clientele of oil field, inland and construction commercial divers, as well as technical, public safety and recreational divers in personal injury litigation. In addition to his litigation practice, Mr. Delise has engaged in the representation of individuals and enterprises in international and commercial litigation and contracts.
A son of a merchant seaman Mr. Delise received his Juris Doctor (J.D.) from Loyola University School of Law in 1979, a Master of Laws (LLM) from Tulane University School of Law in 1990 and his Bachelor of Science from Louisiana State University in 1976. Mr. Delise holds Martindale-Hubbell's highest (AV) rating.
Mr. Delise was admitted to the Louisiana State Bar Association in 1979 and the Texas State Bar and Colorado State Bar Associations in 1998. He has been admitted pro hac vice in numerous Federal and State Courts all throughout the United States. Mr. Delise holds membership in the Association of Trial Lawyers of America, The Louisiana Trial Lawyers Association and The Federal Bar Association. He sits on the faculty of the Undersea and Hyperbaric Medical Society where he lectures on Diving Law and legal issues related to hyperbaric medicine. He has been visiting skills professor at Loyola Law School teaching law students Negotiations, Trial Techniques and Motion Practice since 1990. He has lectured on Diving Law and safety within the commercial diving community at several of the leading commercial diving schools throughout the United States. Mr. Delise is a past Chairman and Co-chairman of the Professionalism and Quality of Life Committee of the Louisiana State Bar Association and lectures extensively on Professionalism and Ethics within in the legal profession. In 2006 Mr. Delise earned the Louisiana State Bar Association's President's Award for his efforts to promote professionalism in the law as well as his contributions to the Bar and the public following Hurricanes Katrina and Rita.
Mr. Delise is ranked as a Louisiana Super Lawyer and holds Martindale Hubbell's highest (AV) rating.
Mr. Delise can be contacted bdelise@divelawyer.com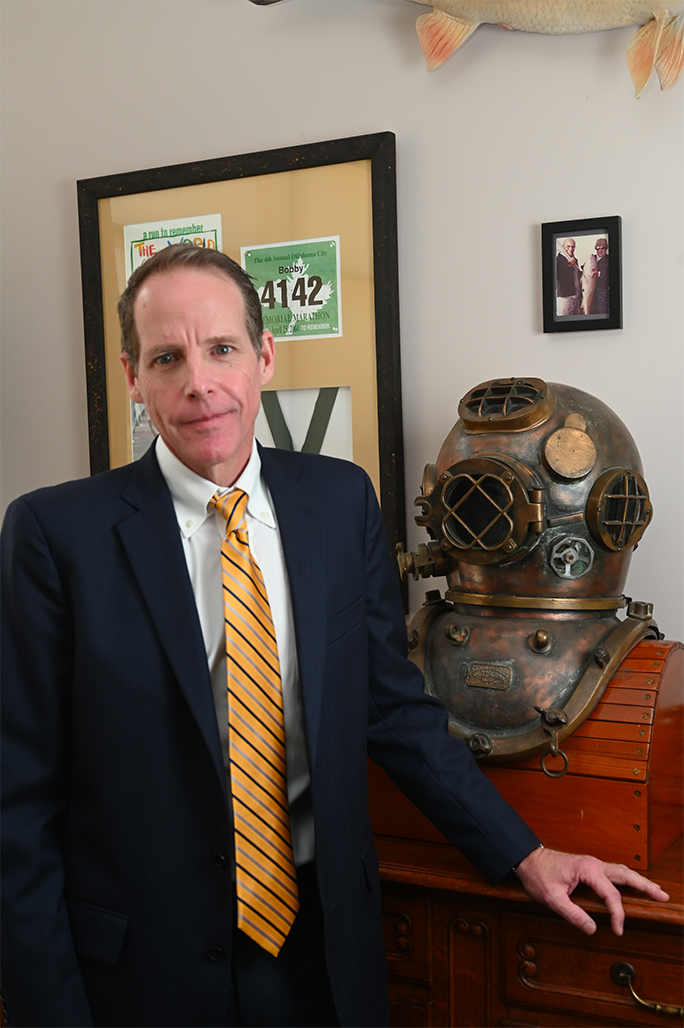 ALTON J. HALL, JR., ATTORNEY
Mr. Hall is a native of Natchez, Mississippi. He and his wife presently reside in Covington, Louisiana, where they maintain a small thoroughbred farm.
Mr. Hall earned his Bachelor of Science from Mississippi State University in 1986 where he was a President's Scholar majoring in Agricultural Economics. He earned a Juris Doctor in 1991 from Tulane University School of Law graduating Magna cum laude, was a member of the Order of the Coif, Moot Court, and was the recipient of the Dean's Honor Medal and awards of excellence in admiralty, trial advocacy and federal procedure.
While in law school Mr. Hall was employed by the Orleans Parish District Attorney's Office. Upon graduation he accepted a position as an associate at Phelps Dunbar handling admiralty and maritime litigation matters. Upon leaving Phelps Dunbar, Mr. Hall assumed a full time faculty position with the Tulane School of Law as one of two directors of Tulane's Criminal Clinic where he taught classes in criminal advocacy and handled the court representation of indigent defenders. In this position Mr. Hall handled hundreds of criminal cases in matters ranging in diversity from simple assault to murder. He handled the trials of many of these cases as well as appellate work.
Mr. Hall joined Delise & Hall in 1994. His practice focuses on admiralty and maritime matters involving recreational, public safety, technical and commercial divers. He is also an expert in treasure/salvage law, charter party and ship collision litigation. He also handles major criminal cases in both state and federal Courts. Mr. Hall's diving related practice is nationwide and in addition to general bar memberships in Louisiana, Texas and the Mississippi federal bar he has been admitted pro hac vice nationwide at both the state and federal level. He is also admitted before the United States Supreme Court, the Federal Fifth Circuit Court of Appeals and the Federal Maritime Commission. Mr. Hall holds Martindale-Hubbell's highest (AV) rating.
Mr. Hall has been a PADI open water instructor since1984, with a Master Scuba Diver Trainer rating having provided instruction on every level of diving including numerous specialties. He is a certified NACD cavern instructor, a cave diver through NACD, GUE and NSS-CDS and a recipient of the Wakulla award, and holds additional certifications through IANTD. He has vast experience with mixed-gas diving, deep diving, cave exploration and wreck penetration. He is a FAA licensed private pilot, Ironman triathlete and avid hunter worldwide. He is the author of numerous published diving legal manuals and continuing legal education articles along with diving and hunting adventure articles.
Mr. Hall can be reached at ahall@divelawyer.com
Mr. Hall was recognized on the New Orleans Magazine list of "New Orleans Top Lawyers" for Admiralty and Maritime Law.
In addition, Mr. Hall was recently peer selected and rated in Louisiana Legal Leaders Top Rated Lawyers, New Orleans Top Lawyers for Admiralty and Maritime and Top Lawyers in New Orleans.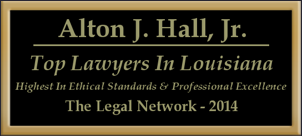 THE MARTINDALE-HUBBELL PEER REVIEW RATINGS

After a lawyer's General Ethical Standards and Legal Ability Ratings are confirmed, his/her ratings are aggregated to create an overall numeric rating for each rated Area of Practice. The numeric rating determines the Peer Review Rating, which includes a rating term and may include a Certification Mark:
AV® Preeminent™ (4.5-5.0) - An AV® certification mark is a significant rating accomplishment - a testament to the fact that a lawyer's peers rank him or her at the highest level of professional excellence.
BV® Distinguished™ (3.0-4.4) - The BV® certification mark is an excellent rating for a lawyer with some experience. A widely respected mark of achievement, it differentiates a lawyer from his or her competition.
Rated (1.0-2.9) - The Peer Review Rated designation demonstrates that the lawyer has met the very high criteria of General Ethical Standing.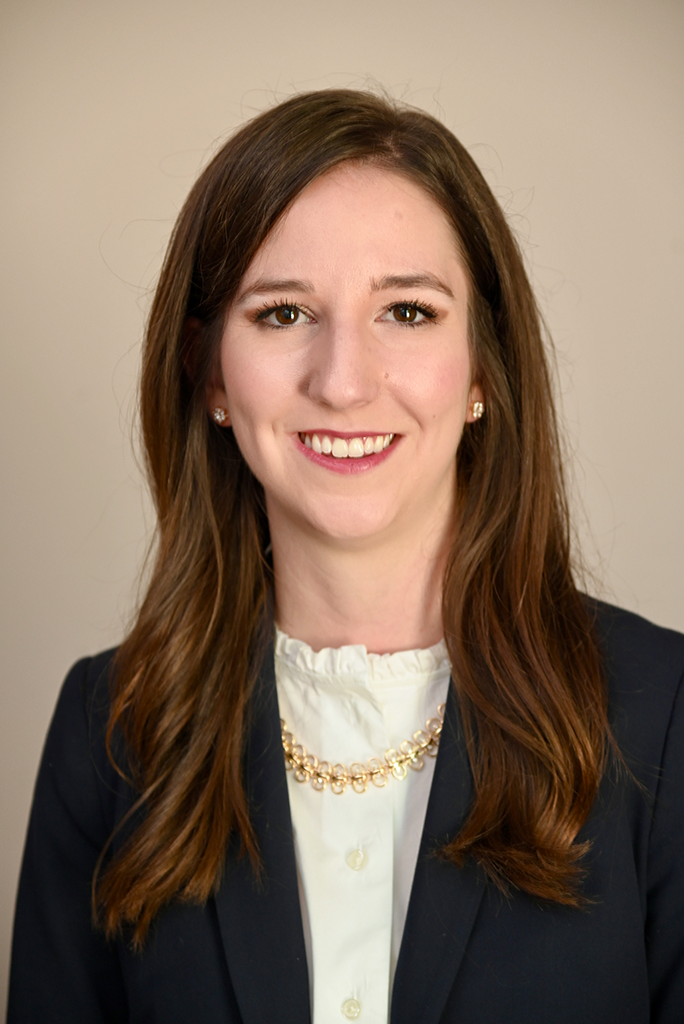 JEANNETTE M. DELISE, ATTORNEY
Jeannette M. Delise, a resident of New Orleans, received her Juris Doctor and Graduate Diploma in Comparative Law from the Paul M. Hebert Law Center at Louisiana State University, and her Bachelor of Arts in International Studies and her Bachelor of Arts in History from Louisiana State University.  Ms. Delise was admitted to the Louisiana State Bar Association in 2018 and the United States District Court for the Eastern District of Louisiana in 2019.
 
From August of 2018 to September of 2019 Ms. Delise served as the Judicial Law Clerk for the Honorable Jay Zainey at the United States District Court for the Eastern District of Louisiana. During law school, Ms. Delise held externships at the United States Attorney's Office at United States District Court for the Middle District of Louisiana, Louisiana First Circuit Court of Appeals for the Honorable Judge Page McClendon, Orleans Parish Civil District Court for the Honorable Robin Giarrusso, and for United States Magistrate Daniel Knowles in the Eastern District of Louisiana.
 
Ms. Delise holds membership in the American Association of Justice, the Louisiana Association for Justice, the A.P. Tureaud Inn of Court, the St. Thomas Inn of Court, the Federal Bar Association, the New Orleans Bar Association, St. Thomas More Catholic Lawyers Association, and the Academy of New Orleans Trial Attorneys.
 
Since joining Delise and Hall in the fall of 2019 Ms. Delise's concentration has been on federal litigation, criminal law, successions, and general litigation.
Ms. Delise can be reached at jdeliselaw@gmail.com or at our New Orleans office at (504) 836-8000.