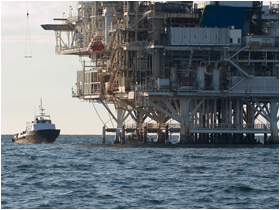 The term "Brown water" seaman is a recent addition to the legal jargon of maritime industry. Skilled craftsmen involved in the exploration, development and transportation of oil and gas in the Gulf of Mexico and its marshes have the identical rights as the blue water seaman as they face the same perils of the oceangoing mariner.
Located in South Louisiana, the cradle of the oil and gas industry, Delise and Hall is ideally located to serve the needs of the Louisiana, Texas and Mississippi oilfield worker as well as those workers who travel into the area from across the United States to practice their unique skills in the Gulf of Mexico in the pursuit of our nation's energy needs. With attorneys licensed to practice in Louisiana, Texas and Colorado, as well as associate counsel throughout the country, Delise and Hall is confident in handling all of the legal matters of the oilfield worker, no matter where they reside.
The oilfield can be a dangerous workplace. Serious injuries occur on platforms, rigs and deck floors. Tragedies occur in route to or back home from the oilfield. A worker's legal rights follow them in transit, to and from home. For peace of mind it is recommended that the professional oilfield worker learn of his or hers rights so that there is peace of mind both offshore and at home. This website can assist the professional mariner with providing a summary of the law. Simply go to (LINK) to familiarize yourself with information regarding your rights under the Jones Act or General Maritime law for personal injuries or wrongful death, wage claims or maintenance and cure. Once you know your legal rights you will be better equipped to handle your duties offshore.
The attorneys at Delise and Hall can also assist the oilfield worker in their personal legal matters while onshore by assisting in the drafting of wills, living wills and trusts for their loved ones as well as providing estate planning and insurance needs. It is the philosophy to provide the oilfield worker with sound advice onshore so that the worker can handle his or her responsibilities with confidence while at work. And lastly, if the worker runs into criminal problems while onshore, Delise and Hall stands ready to represent the mariner so that there is no loss time at sea.
Delise and Hall is always there to assist the mariner in the handling of their legal needs. Contact Delise and Hall before those needs exist and establish a working relationship with our firm. Leave for sea at peace, knowing that you have an attorney back at port standing by to assist your every legal need.
For information or a free consultation contact Delise and Hall 1-800-348-3755 or go to the "Contact Us".
We stand ready to serve your legal needs.