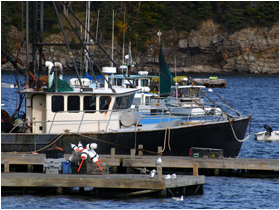 The general public is just becoming aware, through watching the highly rated Discovery Channel's series "The Deadliest Catch", what those in the commercial fishing industry has known since the first vessel left for port in search of the bounty of the sea:: commercial fishing is a very dangerous perilous and forbidding profession.
In many maritime nations, including the United States, the commercial fishing industry has one of the highest fatality rates of any occupation. Improperly equipped or crewed vessels, poor training and the dilemma of placing profit over safety plague the industry and place the fisherman in a precarious position as he tries to make a living in a very hostile workplace.
Commercial fisherman rates of deaths and injuries as the result of drowning, entanglement, man-overboard and equipment failures, as well as occurrences of disease and illness related to fatigue, exposure and exhaustion continue to shock the community and the Admiralty courts nationwide. It should be remembered that the fishermen of this proud and historic community have significant legal protections under the maritime law.
Delise and Hall is very familiar, experienced and capable of protection the legal rights of the commercial fisherman. The attorneys of Delise and Hall will travel any where at any time to serve the needs of the commercial fishermen.
Delise and Hall will always available to assist the mariner in the handling of their legal needs. Contact Delise and Hall before those needs exist and establish a working relationship with our firm. Leave for sea at peace, knowing that you have an attorney back at port standing by to assist your every legal need.
For information or a free consultation contact Delise and Hall 1-800-348-3755 or go to the "Contact Us".
We stand ready to serve your legal needs.